Marcia Cross: Nursing Twins Is a 'Big Job'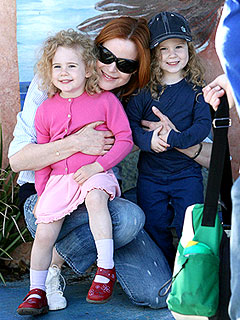 Flynet
As a former breastfeeding mom of multiples, Marcia Cross says that with hard work and dedication, the doubled task of nursing twins is doable.
"The fact that I was doing two was a big job," she noted during a Friday appearance on The View.
"You had to prop them up on pillows and get them just right and then switch them!"
Fortunately, with the help of a "wonderful nurse" who encouraged Cross to keep trying, the Desperate Housewives star successfully breastfed fraternal daughters Eden and Savannah, now 3, for four months.

Asked whether she nursed the girls in public, Cross admitted she hadn't, but not because she feared any sort of social stigma.
"I didn't feel sexual about my boobs at that point," the actress, 48, explains.
"I think there's … this allure that it's a sexual thing to other people, but I'd be like, 'Walking through the house with my milk jugs.' You don't feel sexual at all."
— Anya Leon