Cynthia Nixon: My Kids Have Two Moms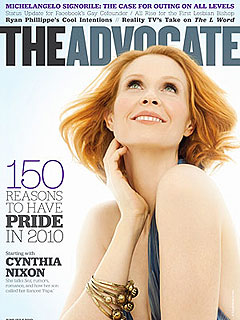 Courtesy The Advocate
When Cynthia Nixon began dating Christine Marinoni in 2004, the actress made sure it was understood that as mother to Samantha, 13, and Charles Ezekiel, 8, she came as a package deal. Six years later, the family is flourishing.
"Maybe I'm just lucky, but I feel like Christine is so amazing with our kids — because they're our kids," Nixon reveals in The Advocate's June issue.
"I feel like falling in love with her is part of being amazed at how she makes our family so much better."
With Marinoni staying home while the Sex and the City star nurtures her career, the family dynamic has grown stronger — a result, Nixon says, of their amazing support system.
"[Charlie's] teachers were just so great about it because they were the first people that started referring to 'Charlie's moms,' which is so lovely, and we really hadn't done that yet," she notes. "So Charlie came home one day and he said [to Marinoni], 'You're my mommy too!' "

However, when Nixon began referring to Marinoni as Mama Christine, Charlie started experimenting with a more traditional title of his own. "One morning we're at breakfast and Christine is in the shower and Charlie says, 'Where's Papa?'" she recalls.
"My daughter said, 'Papa? You mean Daddy?' And he said, 'No, Papa! Christine!' He'd come up with this masculine name for her. It's gone through a whole series of things."
And as Charlie's use of the word Papa had people believing he was referring to his father Danny Mozes, Nixon recalls a time when her son's barber suggested he tells his Papa to give him a little brother.
"I was just going to let it go — what are you going to say? But I saw Charlie — I saw it land and how he thought about this, and he was quiet for awhile," the actress, 44, remembers.
"Then he very slowly said, 'Sometimes I call Christine Mommy.' It was like Charlie was trying to navigate what everybody's assumptions about him and his family were at age three. It was so amazing."
— Anya Leon