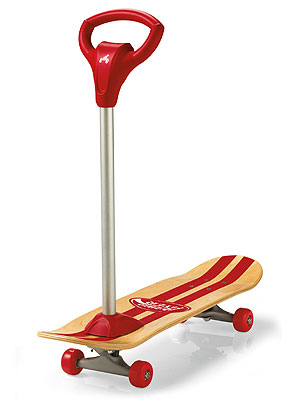 Courtesy of Radio Flyer
Scooting is now a family affair, thanks to two new offerings from Radio Flyer.
Little ones — aged 3 to 8 — will love the cool Scoot 2 Skate ($55, left).
It comes with a removable comfort handle to help improve balance. But once your child's ready, it goes from scooter to skateboard in no time.
Want to get in on the fun?
Try the Smooth Rider Scooter ($100). The wood deck is sturdy (it holds up to 200 lbs) and extra-wide. Plus, the handlebar can adjust up to 36 inches.
Added bonus: It's foldable, so it's easy to tote.
Overall, we're loving the mix of modern design with vintage details (check out those red stripes!) They're sure to be instant classics.