Heidi Klum Reveals Seal's Strong Sense of Family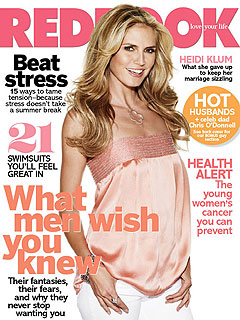 Courtesy Redbook
When it came to designing her maternity lines, all Heidi Klum needed to rely on was her first-hand experience!
"I had naturally learned a bunch of things being pregnant myself four times, and I incorporated a lot of what I would have liked to have into my designs," the June Redbook covergirl reveals.
"Like for example, when you sit, the wrong pants can cut into your gut — not comfortable! Many times, my husband [Seal] had to get big scissors at dinner and cut me out of my pants."
Although Klum is grateful for Seal's consistent love and support, she isn't surprised by it in the least.
"After his birth mom and dad passed, he lived with his stepmom and siblings. It was tough sometimes," she reveals of his childhood.
"So I understand why he is the way he is, so loving to his wife and children, never wanting to be overly harsh with his kids … He wants us to live as examples for our children and all be loving to one another — to be the family that he didn't have growing up!"

And fortunately, the supermodel admits, his laid back personality balances her shorter fuse — which is much appreciated as they raise their four kids! "You need to have a lot of patience, which I don't have — but thankfully my husband does," she says.
With jobs that have them traveling the globe, Klum and musician Seal "have so much fun as a family" when they are able to bring the whole brood —  Leni, 6, Henry, 4½, Johan, 3, and Lou, 7 months — along for the ride.
"We try to go on adventures and outings: to the movies, the circus, Disneyland. It's important for children to see what's out there and learn that it's fun to go," Klum, 36, explains, adding that foursome also enjoy joining Seal on tour.
"We roll in and we roll out like the groupies. The kids watch him perform every night and we have the best time. It also makes them understand better when he is on the road by himself and they ask where he is."
— Anya Leon