Toni Braxton and Diezel Participate in PSA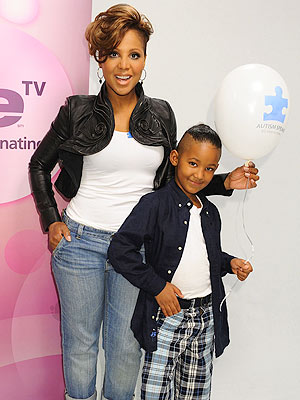 INF
Diezel Ky strikes a pose on set with mom Toni Braxton during the filming of WEtv's 'We Volunteer' public service announcement, taped at the American Movie Company Thursday in N.Y.C.
The singer was highlighting her work with Autism Speaks, an organization she became involved with after Diezel's diagnosis in 2006.
Thankfully, her 7-year-old son is making great strides these days.
"He started mainstream school and he's more social," Braxton, 43, told PEOPLE Moms & Babies at the event. "His speech is coming along wonderfully."
"He's doing great," she says, adding that Diezel works with an occupational therapist. "We're really proud of his progress."
Braxton and estranged husband Keri Lewis are also parents to elder son Denim Cole, 8.
— Jaimie Vaillancourt