How Amanda Peet Chose Molly June's Name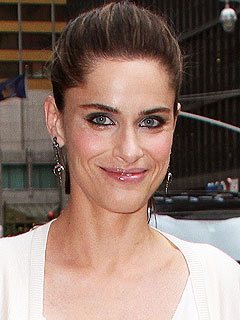 Donna Ward/Getty
When David Benioff made plans to travel to Malta, he never imagined a natural disaster would almost keep him from witnessing the birth of his second child with wife Amanda Peet!
"I got in a taxi three days before [I delivered] and saw the scrolls saying, 'Volcanic ash cloud, all U.K. airports closed," the actress said during a Friday visit to the Late Show with David Letterman.
"I started to panic as I was already dilated and there were signs that I was going to go into labor sooner [rather] than later."
Fortunately, Benioff managed to catch a plane from Rome and arrived back in New York on Saturday night — just in time for Molly June's big arrival.
"My water broke on Sunday, she was very considerate," laughs Peet of the ordeal.

However, drama ensued when it came time to leave the hospital and neither Peet nor Benioff could decide on a name.
"We were fighting about it a lot and you can't leave the hospital until you sign the paper with the name so we got right up to the point where the nurse was trying to usher us to leave," Peet, 38, reveals.
"We still couldn't choose between Maya June and Molly June. So finally David … tore off two little pieces of paper, wrote the names on each paper and put them behind his back."
But when Peet picked Maya June, she couldn't hide her disappointment! "I chose one of them and it was Maya and then I got really upset, so…" she says.
As for big sister Frances Pen, 3, the proud mama raves her firstborn is welcoming the new addition with open arms — and a bit of an attitude.
"She's a little more moody than usual, but it's not really directed at the baby," the Please Give star shares. "It's more like, 'Frankie, eat your broccoli,' and she starts screaming. She wants to have a baby in her belly and she wants to breastfeed."