Model Mom Natalia Vodianova Signs on to (BUGABOO)RED
Calling AIDS "humanity's biggest enemy," Natalia Vodianova has joined the fight.
The supermodel, 28, fronts the all new (BUGABOO)RED campaign — launched today in honor of Mother's Day — and says it is the love she feels for her three children  which compelled her to help.
"[Motherhood] changes your life," she admits. "You become more aware and responsible. When you have children, it is heartbreaking to see other children suffering."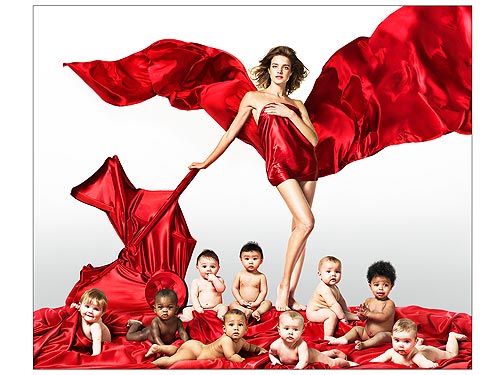 Mary McCartney
In lending her time, Vodianova becomes just the latest celebrity mom to assist Bugaboo in its effort to stamp out AIDS in Africa. Since last fall the Dutch stroller maker has been contributing 1% of all profits to The Global Fund, which serves as the largest international financial provider for programs which combat malaria, tuberculosis and AIDS.
The "wonderful, intelligent collaboration" is one Vodianova says she is proud to be a part of.
"I was keen to work with Bugaboo as they feel passionately about helping mothers and babies around the world and this is a powerful message to tell on Mother's Day," Vodianova explains. "I don't get involved with every charity that comes my way. (BUGABOO)RED is particularly worthwhile."
Vodianova says she will celebrate today at home with Lucas Alexander, 8, Neva, 4, and Viktor, 2½. "My oldest son is very sensitive, while my youngest son is the cheeky one," she reveals. "My daughter is a princess who gets away with everything."
The trio — Vodianova's children with husband Justin Portman — "always make me little cards and cakes, and give me gifts," she says. "They're so excited and it's very touching."
— Reporting by Oliver Bennett for (BUGABOO)RED