Angie Harmon: My Daughters Love to Laugh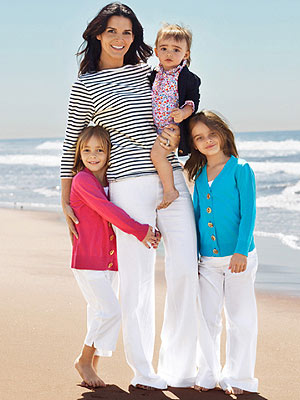 Douglas Friedman
She never imagined a life with three daughters, but now that Angie Harmon is mom to Finley Faith, 6½, Avery Grace, 4½, and Emery Hope, 16 months, the actress is treasuring her time with her girls.
"Their personalities are so different and so fun to watch develop," she tells designer Tory Burch of her children with husband Jason Sehorn.
But despite their differences, Harmon admits Finley, Avery and Emery all love to laugh — much to her amusement.
"What I love the most about all three of them is that they each have a great sense of humor," she shares.
"Even when they are mad or crying, I can usually get a smirk or even a chuckle out of them."

Drawing inspiration from her grandmother when it comes to raising her family, Harmon reveals her best parenting advice is harder than it sounds.
"If you need to apologize to someone, do it," she explains. "That means actually saying the words, 'I'm sorry.'"
As for her dreams for her daughters, Harmon hopes they will have their "health and happiness," as they find their way.
"Life is full of ups and downs, successes and mistakes," Harmon, 37, says. "I want them to know they can always turn to God and their parents for guidance and support."
— Anya Leon