Nia Vardalos: 'A Giddy Idiot on Mother's Day'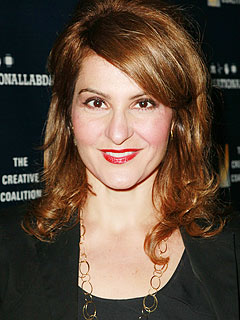 David Livingston/Getty
The second Sunday of May was a date that Nia Vardalos always did her best to forget. That is, until she welcomed a daughter in 2008.
"Admittedly, I am a giddy idiot on Mother's Day," she writes in a blog for Anderson Cooper 360.
"I'm also a hypocrite because for a long time … just the drugstore card rack would make me queasy."
Despite years of trying to start a family with her husband, Cougar Town star Ian Gomez, Vardalos' unsuccessful attempts to become pregnant were only intensified in her social circle.
"Some women would innocently ask why we didn't have children. Others would overhear and exclaim what a great father my husband would be, so why on Earth didn't we have kids?" she recalls.
"A lot of 'You should' advice came my way. From the 'latest technique in Europe,' to 'just adopt from China' — everyone weighed in."

And although Vardalos insists she was grateful for the good thoughts, the actress admits the constant reminders were too "painful" for her to bear. So much so, that at times lashing out was almost too tempting.
"One woman actually made fun of my anatomy while proclaiming how her body worked 'perfectly,'" she shares.
"And sure, I could have innocently asked, 'Did pregnancy hormones grow your mustache or did you have it before?' But I didn't."
Instead, Vardalos, 47, kept her hopes up for a child all the while denying she was expecting as she sipped non-alcoholic beverages. The experience, she jokes, left her with a bit of advice — and a lesson in tact!
"There were women who would pat my tummy and say, 'When are you due?' A small social guideline: don't ask a woman if she is pregnant unless her water breaks on your flip-flops, a baby arm dangles out of her vagina and she asks you to cut the cord," she suggests. "Then and only then may you ask if she's having a baby. Otherwise, shut up."
Fortunately, Vardalos' dreams finally came true when she and Gomez were matched "with our perfect daughter" through the American foster care system.
"Over a year later, she is thriving in an environment of love and care," the proud mama raves of her 4-year-old.
"And, if I'm happy on this day, it's because I am in love with being a mom and so grateful for the circumstances, as painful as they were, that led me to my wonderful daughter."
— Anya Leon