Joely Fisher's Family Secret? Laughter!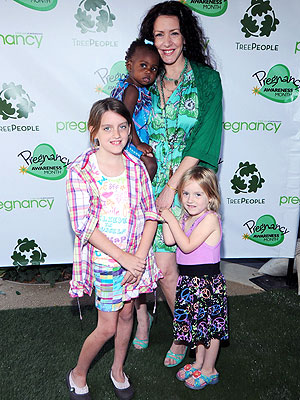 Amanda Edwards/Getty
Having celebrated her 13th wedding anniversary in December, Joely Fisher counts her marriage to Christopher Duddy as a major accomplishment!
"In Hollywood, you get a medal," she jokes to PEOPLE Moms & Babies at Sunday's Pregnancy Awareness Month kick-off event.
"We support each other, we laugh a lot."
And with five children between the two of them, giggles in the Fisher-Duddy household are easy to come by.
"I have five ranging from 26 years to 19 months, so there's always something monumental happening," the actress says of daughters Skylar Grace, 8½, True Harlow, 4, and Olivia Luna, 19 months, and stepsons Cameron, 26, and Colin, 24.
"It's especially fun to watch [Olivia]. Every time there is a new baby — seeing them be incorporated into the family and seeing what the big kids have for them."

Initially worried she would be spreading herself too thin, Fisher has discovered her love has simply multiplied with each new addition.
"You always wonder, 'How can I possibly love another one the way that I do?' And you just do," she notes.
"You find yourself having enough time and having enough love and energy for all of them, and trying to spend time with each of them individually."
So will baby Olivia be the last for the couple? Fisher, 42, remains unsure.
"I love the birth process. It's just the lifetime after that — we'll see if I can afford it!"
— Anya Leon with reporting by Pearl Barraclough