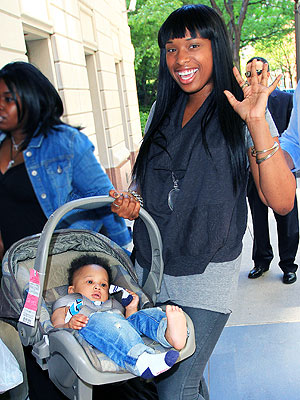 Jackson Lee/Splash News Online
Look who's missing a sock!
Newly svelte mom Jennifer Hudson — who proves Weight Watchers works! — arrives at her New York City hotel Wednesday while son David Daniel Jr. kicks back and relaxes.
Her 9-month-old baby boy has his own unique speaking system, the singer/actress, 28, shares.
"We were just on the plane the other day and he was growling at the broccoli that he was playing with. He was like, 'Arrrr!'' she laughs.
"He growls at the other babies and he thinks that's how you're supposed to communicate."
RELATED: Jennifer Hudson On David Jr.'s Puppy Pals