Annika Sörenstam: How Golf Prepared Me For Motherhood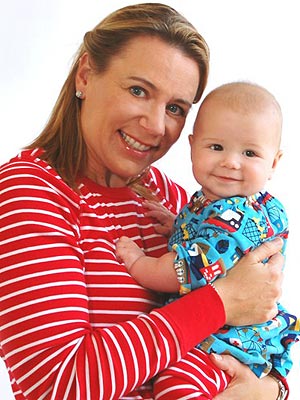 Janelle Leone Berger
There aren't many parallels between motherhood and golf, but Annika Sörenstam says her former career prepared her for life with daughter Ava Madelyn in at least one important way.
"Traveling as a professional golfer, I thought I had a lot of luggage, but that's nothing to what I have today," she reveals.
"Now it's strollers, it's the diaper bag, it's the car seat … You know, it's just stuff, [but] I think traveling on tour prepared me for traveling heavier with a lot more bags."

Recently named Swedish clothing line Polarn O. Pyret's "Mama of the Year," Sörenstam confesses that motherhood has proven to be "a lot more rewarding" and "a lot more emotional" than she ever imagined.
Ava, 8 months, brings Sörenstam and husband Mike McGee joy that is "hard to describe," Sörenstam adds.
"You can talk to friends and family, they say it's just the most wonderful thing in your life," she notes. "Back then because I had no clue about motherhood, all I could relate it to was winning a golf tournament. Now I see you can't really compare the two so I guess it would be like winning the Grand Slam every year."
As for whether or not Ava will someday follow in mom's famous footsteps, apparently the apple hasn't fallen far from the tree! Baby girl shows "some signs of stubbornness" and an early inclination for the spotlight, Sörenstam, 39, reports.
"You can tell she wants to stand up … If she can't do it she gets a little bit maybe impatient. I can see her wanting to do stuff, and being very active," continues Sörenstam. "That probably comes from both Mike and me."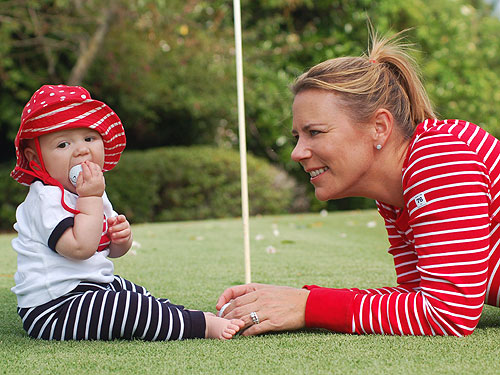 Janelle Leone Berger
Watch video from Annika's photoshoot and interview here!