Molly Ringwald Tackles Tough Topics With Daughter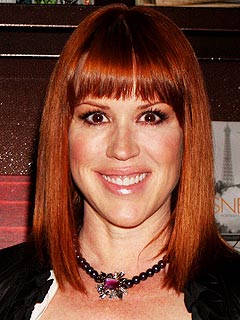 Henry McGee/Globe
For mom-of-three Molly Ringwald, honesty is always the best policy when it comes to parenting.
"I'm not honest to the point where I'm talking about things that she's too young for," the Secret Life of the American Teenager star says of daughter Mathilda Ereni, 6½,
"But I've tried to figure out a way to talk to her about difficult subjects in ways she can understand."
"We had a conversation yesterday about why there was war," Ringwald, 42, tells Babble.
"I related it to the playground."

That candor is equally apparent when Ringwald is asked about a passage in her new book Getting the Pretty Back: Friendship, Family, and Finding the Perfect Lipstick, which touches on the touchy subject of disciplining the children of strangers.
"When I lived in France, I noticed every parent would reprimand other children just by saying, 'Hey, that's inappropriate' or 'Don't do that,' and other parents would appreciate that," Ringwald replies. "But in the United States, moms tend to say, 'Hey, that's my kid, stay away.'"
While she has no qualms about others offering directives to Mathilda or her 10-month-old twin siblings Adele Georgiana and Roman Stylianos — especially if they are in danger — Ringwald says that tone is key.
"If it's done respectfully and constructively, I have no problem," she insists. "If another parent is saying something abusive to my kid, that's not okay."
At the same time, Ringwald admits it's sometimes tough to let Mathilda blaze her own trail.
"My daughter is very headstrong, especially with style and how she wants to do things," she reveals. "At one point she almost reduced me to tears because she wouldn't wear these expensive patent leather boots I bought her."
Although Mathilda "has a great sense of style," Ringwald says that mom and daughter rarely see eye-to-eye when it comes to fashion — and that she's learned to celebrate their differences.
"One of the hardest things parents have to accept is that they have to let their children express themselves, to love them and allow them to be different," she adds.