Ellen Pompeo: No Junk Food for Stella!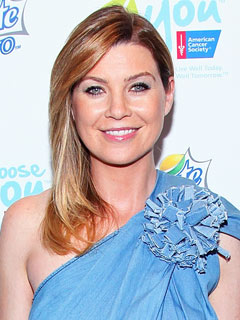 Mike Coppola/FilmMagic
As 7-month-old Stella Luna begins to nosh on more than milk, Ellen Pompeo is thrilled to purée nutritious foods for her daughter. In fact, the actress is already introducing healthy habits that she learned from her own grandmothers.
"She has two teeth now and she's already eating solid foods," Pompeo told PEOPLE Moms & Babies at the American Cancer Society's Choose You initiative luncheon in New York on Wednesday.
"I try to make food for her as much as I can and she eats a lot. She holds her own spoon now."
Living a healthy lifestyle is a top priority for Pompeo, 40, who launched the Choose You movement to encourage women to focus on themselves first in order to stay healthy and to prevent cancer.
"I have to say I've always been a little [bit] obsessed with working out and eating right. I've been on this track for a while which is why I was passionate about this campaign," she says. "I want to teach my daughter the importance of exercising and eating healthy as she grows up."

The Grey's Anatomy star was raised in an Italian household near Boston and says she learned to eat well from her grandmothers, who helped raise Pompeo after her mother passed away when she was four.
"We had gardens and we grew most of our own food," she says. "We had chickens and fresh eggs … I was never a person who was introduced to junk food. It was instilled in me from a very young age from my grandmothers and it was what they served in the house. I didn't know anything else."
Now that she's a mom, she's using the same no junk food policy for Stella — not even Cheerios. "I haven't given her Cheerios yet but if she does, she would have organic oats instead," she says with a laugh.
But for now, the actress is enjoying every minute with her daughter. "Being a mother is magical," she says. "I live a very blessed life and I could go on for days on how amazing my daughter is. She's so great. She's just starting to get a personality and she's definitely a charmer."
Sounds like she's charmed her father as well!
"He adores her," she says of her record producer husband Chris Ivery. "He's a very hands on dad. He loves to carry her on his shoulders everywhere we go. He has a ball with her and he's absolutely in love with his daughter."
— Paul Chi