Danica McKellar Feeling 'Much More Normal' in Second Trimester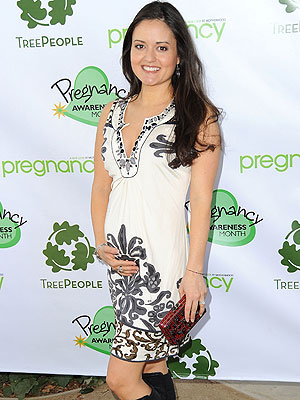 Michael Kovac/FilmMagic
In an effort to ward off "big blob" syndrome, expectant actress Danica McKellar says she's staying fit with maternity workout DVDs.
"Exercising makes my muscles feel good, it gets the energy and blood pumping," she tells PEOPLE Moms & Babies at Sunday's Pregnancy Awareness Month kick-off, held at Coldwater Canyon Park in Beverly Hills.
It wasn't always so easy, however! McKellar, 35, admits that first trimester fatigue was a surprise.
"I was really tired all the time," she recalls. "In my second trimester now, I'm starting to get more energy so I feel so much more normal and exercise is definitely a part of that."
Diet is equally important to the former Wonder Years star, who has recently been noshing on hearts of palm and yogurt.
"I've been eating really healthy anyway, even if I do have unhealthy cravings, I don't indulge in them," she reveals.

Husband Mike Verta hasn't gained any sympathy weight, but McKellar says at least one pregnancy symptom became a family affair!
"During my first trimester, I burped like 100 times a day," she explains. "And he started burping too — it was kind of contagious."
The couple are "curious" to learn whether their baby-on-the-way — due this fall — is a boy or a girl.
"I think the more you know, the more you feel close to," McKellar notes before insisting that they have no preference either way.
"We would like one of each eventually so I guess the second pregnancy we'll be hoping one way or the other."
— Reporting by Pearl Barraclough