BumpWatch: Amy Adams' Splendid Stripes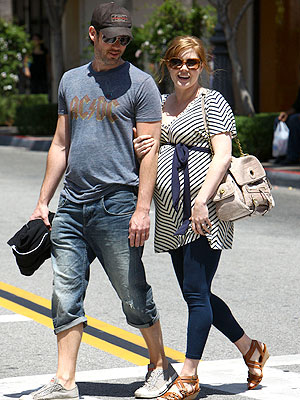 JSGS/GSI
Keeping fiancé Darren Le Gallo close, a cute and comfy Amy Adams smiles as she spends Saturday shopping at The Grove with friends and family.
The Julie & Julia star, 35, is expecting her first child this month.
Although Adams hasn't revealed the sex of her child publicly — pink baby shower gifts may indicate a girl — she told Entertainment Tonight that she planned to find out.
"I thought about waiting and I just don't think that's really my personality," Adams says.
"It's not about planning a nursery, it's more about I just want to know."
RELATED: Amy Adams Views Impending Motherhood 'As an Adventure'