Kaitlin Olson, Rob McElhenney Expecting a 'Really Handsome' Baby Boy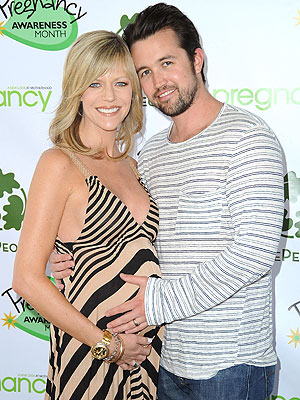 Michael Kovac/FilmMagic
Six months into her "easy" pregnancy, Kaitlin Olson is crossing her fingers that the luck lasts through to her August due date.
"I haven't been nauseous at all, so far — I hate to jinx it," she told PEOPLE Moms & Babies at Sunday's Pregnancy Awareness Month kick-off event.
"I feel pretty normal except I can feel something moving inside of me."
The Always Sunny in Philadelphia star and her husband, series creator Rob McElhenney, recently discovered that they're expecting a boy — and the couple is thrilled with the news.
"Rob wanted to find out the sex. I wanted to wait," Olson, 34, admits.
"But as soon as we decided we were going to, I couldn't wait to find out."
"You're just happy that all of his little fingers and toes are there. And he's really handsome, I'll tell you that much. We've seen pictures!"

When sudden side effects do come up — including Olson's need to satisfy her sweet tooth — McElhenney steps up to the plate. "He's been awesome," the actress shares.
"We've been together for many years now and we've been talking about having kids for quite a while. I'm certainly ready," McElhenney, 33, adds.
Agreeing that the pregnancy has been a "team effort," Olson jokes that McElhenney's belly is keeping up with her own growing bump.
"When we hug now, I feel like both of our stomachs kind of bang together," she laughs. "He'll lose it right after the pregnancy. When I'm breastfeeding he'll lose his fat stomach."
— Anya Leon with reporting by Pearl Barraclough