Ingrid Vandebosch Dishes on Her Designer Dress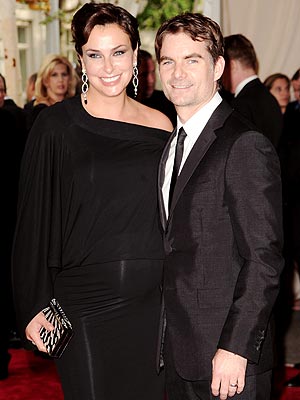 Bill Davila/Startraks
A flowing gown kept Ingrid Vandebosch's bump practically under wraps at the Costume Institute Gala, held at Metropolitan Museum of Art.
"It hides the right stuff — my arms, my belly, my legs," the model, 39, told PEOPLE Moms & Babies of her Kaufman Franco dress, which she accessorized with jewels from Cartier.
Due the first week of August with a boy, Vandebosch and husband Jeff Gordon are preparing for the arrival of their son, who will join big sister Ella Sofia, 2½.
"I don't know how you can have any more love than we already have for her," Gordon, 38, notes.
"So I'm excited to see how I react to having a second child as well as having a boy this time."

Although the couple are considering name possibilities for their baby boy, there is one they've already decided against. "No Jr.," the race car driver said firmly. "He's not going to be a Jr."
He may, however, end up behind the wheel like dear old Dad.
"Could be. We won't know until he's a little older. But the way he's kicking inside there, he might well be," Gordon laughs.
Sounds like Ella could be taking after her model mama as well. "She would not stop talking" while Vandebosch was preparing for Monday evening's gala, Gordon shares. "She just loves seeing her get the hair and makeup done."
"Last year, I had a big poofy dress," adds Vandebosch. "All she wanted to do was be under my dress! She was screaming and excited."
— Jeffrey Slonim