Spotted: Maggie Gyllenhaal and Ramona – Ready for Rain!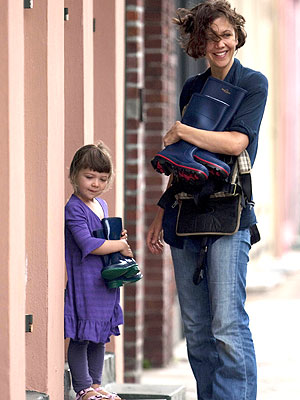 Deano/Splash News Online
Like mother, like daughter!
Maggie Gyllenhaal and 3½-year-old Ramona have the same taste in footwear — check out their matching rain boots! — while hanging out in New Orleans on Friday.
Ramona is the only child for the Crazy Heart actress, 32, and husband Peter Sarsgaard.
"We've traveled around a lot with Ramona and, while there are some wonderful things about that, what a young child really wants is stability and routine; she wants a sense of home," Gyllenhaal said recently.
"We've been trying to protect that and it's one of our biggest challenges."
RELATED: Look for Less: Ramona Sarsgaard's Groovy Chic!