Christina Aguilera: Max Requests My Music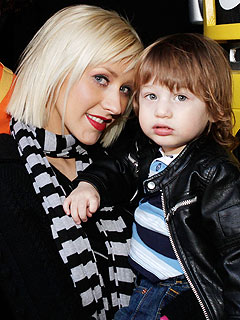 Jeff Vespa/WireImage
Christina Aguilera may have found her littlest fan: son Max Liron!
"He does say, 'Put in Mama's song, put in Mama's song.' And then he goes, 'Go crazy! Go crazy!' It's so cute," the songstress, 29, tells Access Hollywood, adding that he is also "really into" singer Rihanna.
Having released her latest single, Not Myself Tonight, Aguilera insists she isn't looking to conform to the traditional motherhood mold, but rather teach her son to appreciate her for who she is.
"Mama still has to be me," she says. "I never claimed to be a cookie-cutter soccer mom. That's all good for some people. Not for me."

Determined to show Max she is comfortable in her own skin, Aguilera is hopeful that the 2-year-old will recognize her sexuality has simply become another artistic outlet.
"He's going to grow up in a household where he knows Mommy expresses herself artistically and some of that will have to reflect itself sexually too at times," she explains.
"He's going to learn to respect the fact that women are allowed to express themselves and not feel shameful about their bodies or their sexuality."
— Anya Leon