Amanda Beard: Swimming On Empty!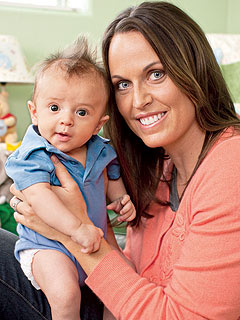 Marc Royce for PEOPLE
All new moms suffer from sleep deprivation, but few will ever know the exhaustion being experienced by Amanda Beard.
The 28-year-old swimmer — in training for the 2012 Olympic games in London — says that son Blaise Ray, 7 months, is still waking four to five times each night.
"It's, well, interesting to not sleep and then work out four to five hours a day," she muses in a new interview with Babble. "And when I'm home, all I want to do is play with him, so I'm not taking naps."
Still, Beard insists that the lack of shut-eye hasn't deterred her from making Blaise a big brother. She and husband Sacha Brown will "hopefully" add to their family after the Olympics, she says.

While Blaise isn't ready for training just yet, Beard says that baby boy will start a Mommy and Me swim class soon.
"This past weekend we went in the pool in our backyard for the first time," she shares. "He loved playing in the little waterfall and splashing around. He was having a really good time in the bathtub, so we decided to give the pool a shot!"
Predicting that her son is "definitely going to be athletic," Beard says that it's in the genes.
"I'm more mainstream; I'm a swimmer, but I love baseball, basketball, football and my husband is into extreme sports," she explains. "He can't wait to have him on a dirt bike!"