Emerson Drive's Brad Mates Welcomes Son Tyler Robert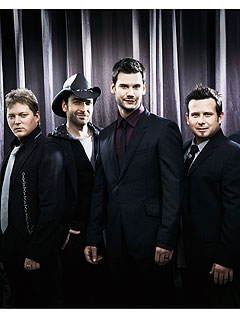 Joseph Anthony Baker
Let the sleepless nights begin — Emerson Drive frontman Brad Mates is a new dad!
The country singer and his wife Jana welcomed son Tyler Robert at 7:04 p.m. on Wednesday, April 28, The Boot confirms.
Weighing 7 lbs., 13 oz., baby boy is the first for the couple, who will celebrate their second anniversary in October.
Announcing the pregnancy last month, Mates admitted he was having trouble grasping the idea of fatherhood.
"[Becoming a father] is a little surreal right now," he said. "I still don't believe that we're going to be parents soon."
— Anya Leon