Dapple Baby Debuts New Eco-Friendly Cleaning Products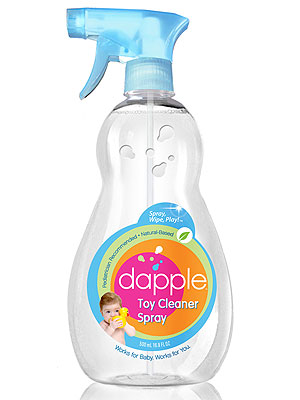 Courtesy of Dapple Baby
If a greener clean is on your agenda for spring, Dapple Baby's got you covered.
The brand — which counts celeb mom and dads like Jenny McCarthy, Trista Sutter, Courteney Cox and Matthew McConaughey as fans — recently launched three new baby-safe cleaning products.
If you like to keep mini playthings germ-free, try their Toy Cleaner Spray ($42 for six 16.9 oz. bottles, left) and Toy Cleaner Wipes ($48 for six 35-count canisters).
Not only do they keep toys safe enough for your tots to chew on, they're biodegradable too so you don't have to worry about hurting the environment.

We also recommend their Baby Laundry Detergent ($64 for case of four 50 fl. oz. bottles) for family washes. Made of a completely natural, hypoallergenic formula, it won't irritate baby's delicate skin.
New to the brand? Try the Dapple Clean-Up Kit ($22), which bundles Dapple Dish Liquid, Dapple Toy Cleaner Spray and Dapple Toy Cleaner Wipes along with a clean-up cloth.
To shop the full collection, go to DappleBaby.com. Don't want to buy in bulk? Shop the products at BuyBuyBaby.com.