Lisa Leslie Discusses Son MJ's Early Arrival
When retired pro basketball star Lisa Leslie welcomed her second child on April 6, he arrived a little ahead of schedule! Not due until May 1, son Michael Joseph II decided he was ready to come into the world sooner than expected.
Leslie, 37, talked to PEOPLE Moms & Babies about MJ's delivery, what big sister Lauren Jolie, 2½, thinks of her new little brother and shared a few baby photos!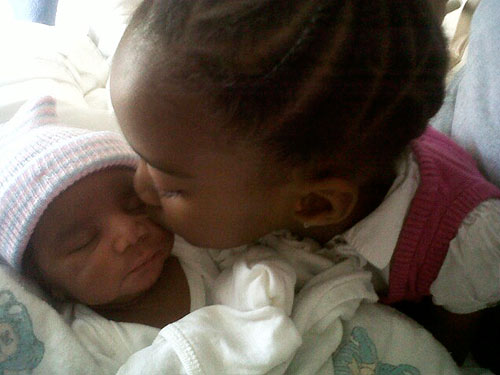 Courtesy Michael Lockwood
Congratulations on the birth of MJ! Can you walk us through what led up to his early arrival?
On April 5th I was experiencing a series of contractions. According to my doctor, it was pretty normal for me because I had an excessive amount of amniotic fluid; however, those contractions got to be five minutes apart.
We didn't want MJ to try and come out naturally since I had already had a c-section with Lauren because she was breech. I was scheduled for my second c-section on April 24th — a week before my due date of May 1st.
The doctors tried to slow down my contractions by giving me an IV, but a few hours later MJ turned head down and the pressure increased. The doctors knew it was time and MJ had decided!
This was unexpected so I just kept praying, "Lord he will come in your time, not mine." I was so uncomfortable but I was determined not to have my baby taken out early for my own selfish reasons.
Thank God, it was really MJ's time. He's here and healthy!
Were there health concerns initially or was everything okay?
The biggest health concern was his lung development. When he was born, I saw his chest caving in and he was struggling a little, but baby MJ fought hard and each breath got stronger and stronger. He did not need any oxygen to assist him with his breathing.
For the first two days, I could hear him breathing and every day the sound faded. By the time we left the hospital on day three, he was breathing normally without a sound.
Did you find pregnancy easier or more difficult the second time around?
This pregnancy was much more difficult. I don't know if it was because he's a boy or I'm a few years older, but a sista was struggling!
He was heavier — I couldn't work out like I did when I was pregnant with Lauren and I was not in the mood to dress cute. I just wanted to bum around in sweats and chill!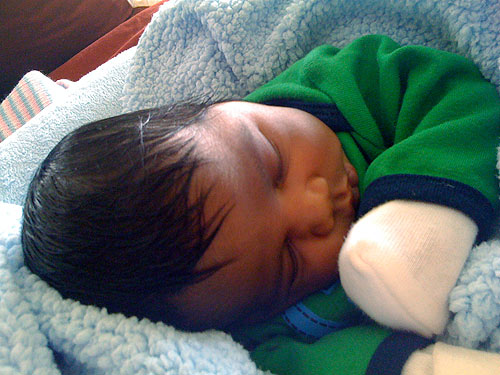 Courtesy Michael Lockwood
How has the adjustment to two little ones been for you?
The adjustment has been hard in the beginning because of the c-section. I have to be really careful because Lauren is so active — she might break my stitches making me laugh or with one of her karate kicks just from being a 2-year-old.
How is Lauren dealing with having a baby around?
Overall, Lauren has been a great help. It's important to make sure the oldest child is able to bond with the new baby. I had both them in the bed with me at the hospital and Lauren thinks MJ is her baby.
She tells everyone at gymnastics, swimming and dance class that she has a little brother and that she's a big sister now!
Now as far as I go, I'm not high on her list right now because she knows our routine has changed. But I have been providing her with little surprise gifts and stealing kisses every moment I get. She will come back around … I hope!
The funniest thing she's said thus far happened when I was changing MJ's diaper. She said, "Mommy, what shape is MJ's bottom?" I told her, "His bottom is shaped like a boy and your bottom is shaped like a girl."
Oh my God, this is only the beginning…
What do your stepdaughters (Mikaela, 15, and Gabrielle, 18) think?
Our big girls are happy to have a little brother … now they want a dog!
You retired from the Sparks last year and now occasionally appear on TV as a sports commentator. What do you enjoy about the days you're at home with your kids?
I love broadcasting and having a non-traditional job — I can take Lauren to all her weekly activities, be here for MJ and be able to nurse him for the next six to 12 months. What a blessing to have a husband [Michael Lockwood] that takes care of his family and affords me the opportunity to be the best mom I can be!
I'm happy, even if my toenail polish is chipped and my hair is in a ponytail until I go back to work on TV. For now, Mom will take a loss and sacrifice myself for my babies!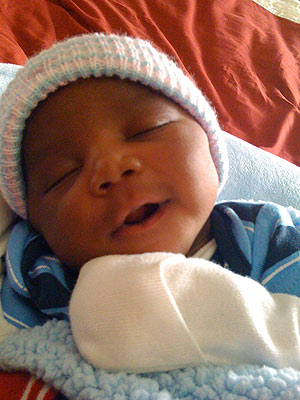 Courtesy Michael Lockwood
For more on Lisa, check out her official Web site and follow her on Twitter.
— Sarah Michaud