Molly Ringwald: Daughter 'Not Interested' in TV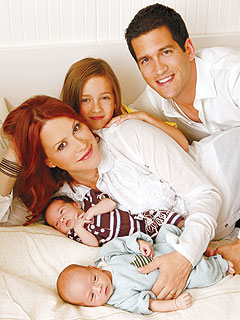 Jeff Vespa/Wireimage/Getty
She may have shot to stardom in front of the camera, but Molly Ringwald has managed to keep certain aspects of the entertainment industry out of her home until recently.
"For years we didn't have a television. The first few years Mathilda [Ereni, 6½] was alive, we didn't have a TV, and then we finally broke down and got one," the actress, 42, tells Mother Jones.
"Not having had a television for that early time, she is not interested by television at all. She's much more interested in other stuff, which I'm kind of pleased about."
And while her children — including 9-month-old twins Adele Georgiana and Roman Stylianos — have limited access to the tube, Ringwald is getting plenty of screen time herself on The Secret Life of the American Teenager.
The mother of a teenage girl who finds herself expecting, Ringwald, who also becomes pregnant on the show, admits the issue of teen pregnancy is one that needs to be addressed.

However, she fears Bristol Palin — who will play herself on an upcoming episode airing this summer — and her message of abstinence after welcoming her son Tripp in 2008 is not the right answer.
"It's fine that she can say that she made a mistake. But to preach abstinence, I think, is absolutely not the right message to give to kids," Ringwald explains, adding that she prefers "communication and talking about choice" when it comes to discussing sex with her own daughters.
"We need to have an open dialogue about it, and she needs to know how to protect herself. I just think that it's completely unrealistic to think that kids are not going to have sex."
— Anya Leon