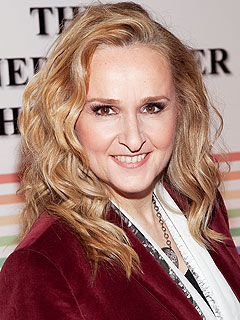 Paul Morigi/FilmMagic
Having recently announced her separation from wife Tammy Lynn, Melissa Etheridge says she's planning to offer her children "as much love as you can possibly slather on."
While life as a single mom-of-four is no doubt daunting, the singer/songwriter, 48, plans to meet the challenge head-on.
"Live fearlessly — for yourself and your children," she tells Babble.
"Know that the love you have for your kids is the only fuel they need and the only thing that will protect them and yourself. Know that love is more powerful than anyone's fear or anyone's misunderstanding of your life and your happiness."
It should come as no surprise, then, that naming her new album Fearless Love was a natural choice for Etheridge.
"As my kids make choices in how they react to life, that place will either vibrate peacefully with a loving choice or will feel bad with a fearful choice," she explains. "And if they always use the little barometer inside of them — that little gauge — then they can live a peaceful and fearless life."

Adding that she hopes Bailey Jean, 13, Beckett, 11, and twins Miller Steven and Johnnie Rose, 3 ½, will "find a place of respect inside themselves," Etheridge promises to lead the way.
"I hope I can be an example when choices come into their life and show them they don't have to be afraid if they don't look a certain way," she says. "I hope to inspire them."
Bailey and Beckett are Etheridge's children with ex-partner Julie Cypher.