Joey Fatone: Adjusting to Double the Daughters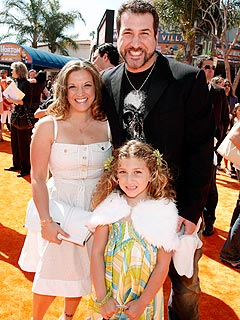 Kevin Winter/Getty
In the years since 'NSYNC split Joey Fatone has become quite the family man, residing in Florida with wife Kelly and their 9-year-old daughter Briahna Joely.
With the addition of Kloey Alexandra in January, however, the pop star says he's still coming to terms with being a dad of two!
"It's really weird to grasp the concept that I actually have another kid. It's so bizarre. It's surreal," Fatone, 33, told PEOPLE Moms & Babies as he kicked off Orlando's World Smile Search Friday in N.Y.C.
"My wife always says she has three kids now instead of two."
The Dancing With the Stars alum says he's enjoying watching his 3-month-old baby girl grow — even if he's not noticing much of a resemblance!
"At first, Kloey looked like my daughter and then my brother-in-law, but now she doesn't look like anybody," he laughs. "She has blue eyes — I don't have blue eyes and neither does my wife. She might be the milkman's kid!"

Elder daughter Briahna is "super excited" about her little sister, Fatone says. "Briahna's embracing her. She feeds and changes her. It's awesome — it's fun to watch them interact."
A big kid himself, the doting dad says he enjoys playing Wii Fit, video games and softball with Briahna.
"She has all these different interests," explains Fatone. "Now she's into fashion. She's been drawing and wants to make outfits. She's religiously watching Project Runway and I have to watch it. I'm like Tim Gunn — 'Hello designers.'"
Briahna likes music as well, and understands her father's pop star past. In fact, Fatone's entrepreneurial daughter hopes to cash in on Dad's success too.
"She knows the drill. [Whenever] we're in a crowd she's like, 'Somebody's going to ask you for an autograph or picture,' and she'll stand to the side or wait. If there's a lot of people, she'll say, 'If I charge five bucks, I could make some money. Five or 10 bucks for a picture.'"
— Carlos Greer