Tamyra Gray & Sam Watters 'Really Excited' For New Baby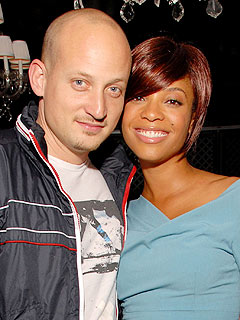 Mark Sullivan/WireImage
A match made in music heaven, American Idol season one finalist Tamyra Gray and her husband, songwriter and producer Sam Watters, are passing their talent along to the next generation with the arrival of their first child together, due July 14.
"We're really excited," former Color Me Badd member Watters, 39, told PEOPLE Moms & Babies at the ASCAP Expo in Los Angeles Friday.
"We don't know what the sex is yet. We're waiting to be surprised. I would love a girl, but I think it's a boy. We'll see if I'm right."
Though Gray, 30, struggled with extreme exhaustion at the beginning of her pregnancy, Watters — who has an 11-year old son from his previous marriage — says she's now doing great.
"She's doing yoga all the time and she eats real healthy."

The proud papa, on the other hand, jokes that he's the one who needs help getting his act together.
"Tamyra is this really skinny girl with the type of body that won't let her put on weight. It makes me sick — I'm working hard,"  Watters laughs. "I have to fight not to get heavy because I've been eating a lot. It's like nervous energy or something. I put on 10 lbs. and was like, 'You're the one that's pregnant. What am I doing?'"
Still fans of American Idol, the couple who reside in Marin, Calif., are rooting for Crystal Bowersox.
"She looks like she knows who she is and I believe it when she's singing," says Watters who is working with Gray on her new album, due at the beginning of 2011.
"The pregnancy was a surprise so we stopped right in the middle of the album," he admits. "But by no means is Tamyra like, 'I want to settle down.' This baby is going to be on the road. I'm looking forward to it."
— Jessica Herndon