Joe Don Rooney & Tiffany Fallon Expecting a Girl!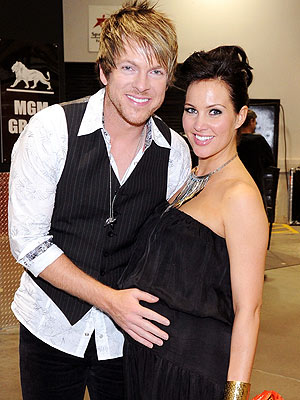 Frazer Harrison/ACMA2010/Getty
After learning they were expecting baby no. 2, Rascal Flatts' Joe Don Rooney and his wife, Playboy Playmate Tiffany Fallon, were eager for the next step: finding out the sex of their second child.
Her bet? Another boy. His bet? Their first girl. Looks like Dad wins this round!
"I had in my head that we were having two boys," says Fallon, who admits to being a bit of a "tomboy" herself, tells PEOPLE exclusively.
"I think Joe Don was really hoping for a girl —  and he got his wish!"
"He said to me, 'That marks the first time I've ever been right.' So I'll have to give him credit for that one," Fallon, 35, laughs.
"It would have been just fine either way but this evens out the playing field at the house! There will be a little more estrogen at the table," notes Fallon of their male-dominated home led by Rooney, 34, and their 23-month-old son Jagger Donovan.
"For me it's always easier to find out the sex of your baby because it allows you to wrap your head around the pregnancy. It kind of brings it home a little bit more."

And how is little Jagger prepared for his new role as big brother? "He knows a baby is on the way but he's really just interested in picking his nose and riding on top of the dog," jokes Fallon.
As much excitement as there is in their Nashville home, it hasn't quite been smooth sailing for Fallon this time around.
"I'm not going to lie, the pregnancy has been pretty brutal up until a few weeks ago," she admits. "I feel much better now, healthier and more active but she put me through the wringer for a while there."
"I find that I've gotten much bigger much faster this time around," Fallon adds. "I heard that happens with the second pregnancy. I found myself back in maternity clothes quickly!"
Although Rooney scored points with his wife for his correct girl guess, baby-naming will continue to be a joint effort.
"There's something fun about bouncing ideas off of each other," she says of what will end up being a mutual decision. "We're one of those couples that has to play with names. I can't even decide what I want for dinner half the time and this is naming a child for the rest of [her] life!"
Due in September, Fallon is making bets of her own. "Joe Don's birthday is actually September 13th, so maybe she'll be a daddy's girl and come right around then," she explains.
The couple, who found out the sex of the baby this past Thursday and celebrated four years of marriage the following day, are on cloud nine.
"Having our anniversary, it really puts it all into perspective. We really have the whole package. We don't need a lot of gifts and fancy stuff, we just need to celebrate each other and our growing family."
— Jennifer Garcia