Mini Must-Have: Harlow Madden's Pretty Cardigan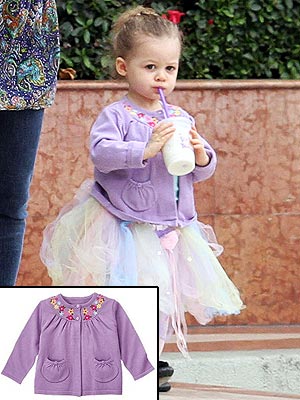 Fame
Stepping out for a drink after her weekly dance class, Harlow Madden, 2, looked oh-so sweet in her lavender cardigan and pastel-colored tutu on March 25.
To get the dish on her too cute outfit, we did some sleuthing and discovered she's wearing the Two Button Flower Cardigan ($12) from Gymboree.
Talk about cheap chic!
The cozy cotton sweater features a pretty floral embroidered design along the neckline and ruched front pockets — perfect for ballet or the playground.
Nicole Richie (and Harlow!) must be a big fan of the line. We also spotted the adorable tot wearing their tiered tulle skirt ($23)!
— Anya Leon