Cameron Diaz: Suri Is a Shrekie!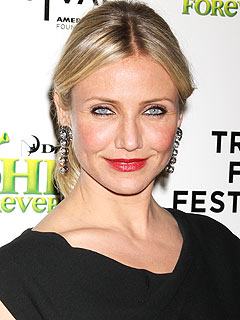 Dara Kushner/INF
At age 4, Suri Cruise is already rubbing elbows with royalty — the fairytale kind!
According to Cameron Diaz, who voices Princess Fiona in the Shrek films, her Knight and Day costar Tom Cruise has spilled the beans to his daughter when it comes to her character.
"It's funny because Suri does know I'm Princess Fiona," the actress, 37, tells PEOPLE Moms & Babies during the world premiere of Shrek Forever After at the Tribeca Film Festival in N.Y.C. Wednesday.
Despite the reality check, Diaz says Suri is still a big fan. "I'm not going to speak for her, but yes, I think she does [love Shrek]," she laughs.
And although Suri has been let in on the little secret, Diaz urges parents to allow their kids to believe the fairytale.
"When parents say to their kids, 'This is Princess Fiona,' I just tell them, 'Let the mystery and the fantasy live within them,'" she explains. "Let them believe that Princess Fiona is actually real."
— Anya Leon with reporting by Jeffrey Slonim