Christina Aguilera 'More Sexual' Since Becoming a Mom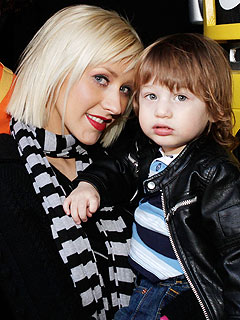 Jeff Vespa/WireImage
Motherhood has made Christina Aguilera "better than ever" and the songstress is poised to prove it to the world with the release of Bionic, her fourth studio album, in June.
"I'm more confident and comfortable in my own skin," she explained in a Tuesday interview with Q100's Bert Show in Atlanta.
"I think [I'm] even a more sexual Christina … it's just something that's happening inside of me at this point in my life."
The transformation was physical, as well.
After welcoming son Max Liron, 2, Aguilera admits she began to view herself differently.
"Seeing your body do these things you never thought possible … When you have a baby, you go through a period where your body just is not your own," she muses. "It becomes for your child and that's it. It is not for you anymore."
Now that she is no longer on the "back burner," Aguilera, 29, says she is ready to reclaim her rightful place on stage. "Once you bounce back from that and kind of get your body back … It's a great feeling," she adds.

Much has been said of Aguilera's practice of "naked Sundays" with husband Jordan Bratman, and the couple haven't changed their approach since becoming parents.
"Yeah, I mean, [Max]'s two," she points out. "We're big art collectors so there's lots of female nudes around the house."
In fact, nudity will be "the norm" for Max, and Aguilera says he'll be all the better for it.
"It's something to be respected and seen as a thing of beauty," she insists. "I think it's only weird whenever you shame it and raise your child to look at it in a weird light."
As for her plans to make Max a big brother, Aguilera says she intends to — someday. "I would love that … but not right now," she replies. "Right now, Bionic is the baby."