Trista and Ryan Sutter on Max's Stitches Situation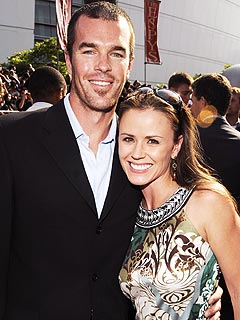 Kevin Mazur/WireImage
When it comes to parenting approaches, Trista Sutter and husband Ryan Sutter couldn't be more different.
However, the couple tell Babble that they "balance each other out" to the benefit of their son and daughter.
"I'm more of a protector; Ryan would probably say I'm a bit overboard," the former Bachelorette, 37, confesses. "I worry too much, whereas he thinks if they fall and bump their heads, that's a learning lesson."
At no time was that dynamic more apparent than when Maxwell Alston, 2½, was accidentally scratched by the family dog around his first birthday.
"He had to get stitches," Trista — also mom to daughter Blakesley Grace, 1 — recalls. "I freaked out, but Ryan turned into the firefighter that he is and scooped up Max and took him away, totally calm."
"In situations where there's some sort of danger, he's definitely the one who steps up to the plate because I lose it in a crying, motherly sort of way," she adds.

The couple are on the same page, however, when it comes to dealing with a public temper tantrum.
"If Ryan's there and we're tag-teaming the kids, I'll stay with Blakesley, and he'll usually grab Max and take him outside, because he's really receptive to the outdoors," Trista reveals. "It's all about getting down to his level, telling him to take a deep breath, then redirecting his attention."