Julianne Moore: My Kids Never Ask for My Children's Books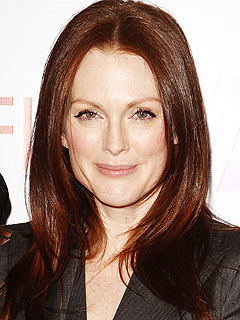 Amy Sussman/Getty
She's an Oscar-nominated actress, philanthropist and children's author. But to her own kids, Julianne Moore is just Mom.
"They're very disinterested in what I do for a living," Moore told PEOPLE of her son Caleb, 12, and daughter Liv Helen, 8, at a reading event for kids in the Bronx on Monday.
That's true even of her Freckleface Strawberry children's-book series.
"My book is never requested [at home]," Moore, 49, says with a laugh.
"Children are interested in you being their parent, and that's really what they want. It's a great thing."

Other kids, though, are jazzed about her books — including the roomful who heard Moore read her second title, Freckleface Strawberry and the Dodgeball Bully, at the South Bronx Health Center.
Moore gave the reading to support the Children's Health Fund and the Clorox Connect Kids to Care program, a social-media campaign to help kids get access to preventative healthcare.
But while her own kids might not care much about her books, Moore is teaching them to care about the world around them.
"They go to a Quaker school, and one of the things in the Quaker community is about community service and what you can do to help others," she explains.
"We've been given a lot in our lives, and so we talk about that. What do you do to help out? Simple things like cleaning up a park, but just the idea that it's your responsibility as a member of a community to help out other people."
— Shruti Dhalwala