A. Bird Baby: Sophisticated (and Cute!) Kids Clothing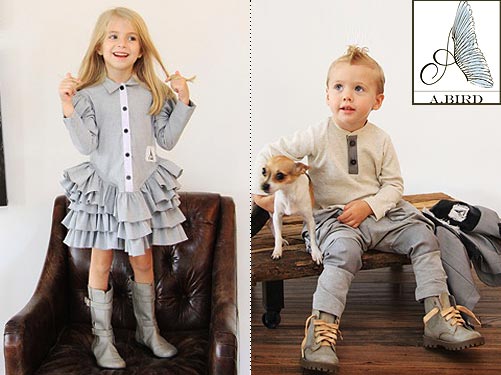 Courtesy of A.Bird
If there's one thing we can't get enough of, it's adorable children's clothing. That's why we're excited to see A.Bird Baby on the scene. A mix of old-fashioned elegance and modern playfulness, this brand new kid-friendly line is sure to become a celeb favorite.
Designed by two style-conscious moms (one's a former shoe designer), they've got everything from tiered ruffled dresses (Posey Frock, $110, above left) for girls to high-style henleys (Hanson top, $70, above right) for boys in soft hues of grey and blue.
Sized from 12 months to 6T, styles are designed to be mixed and matched. And despite their fancy appearance, everything's machine-washable.
See more styles at Zeal Baby, which has a select pieces from the fall 2010 collection available now for pre-order.
— Stephanie Phoenix