Sarah Jessica Parker on the 'Suspended Animation' of Surrogacy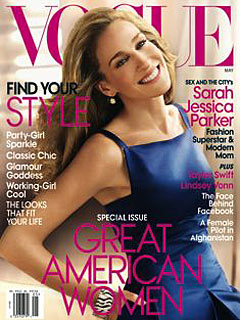 Courtesy Vogue
When Sarah Jessica Parker welcomed twin daughters Marion Loretta Elwell and Tabitha Hodge via surrogate last June, time stood still.
"The gestational experience is gone," she notes in the May cover story for Vogue. "It's as if everything else disappears for a moment, and the world goes silent and — I can't explain it except to say that nothing else existed."
The notion of meeting your children instead of giving birth to them, she continues, is something best described as "suspended animation."
"I don't remember anything but the blanket on the bed that they were lying on and my husband's face and their faces and my son's," Parker, 45, recalls.
"It's literally as if sound is sucked from the room. It's so different, and equally extraordinary."
At the same time they decided to pursue surrogacy, Parker says that she and Matthew Broderick also agreed to initiate an adoption, but Loretta and Tabitha were first to arrive.
"[I] tried and tried and tried to get pregnant, but it just was not meant to be, the conventional way," she shares. "I would give birth as often as I could, if I could."
Now that they are here, Parker says she's hoping that the now 9-month-old girls will someday provide good company for their big brother James Wilkie, 7. "I didn't want him to have to shoulder the burden of us — later in life — by himself," she explains.