Jamie Oliver's Fourth Baby a 'Hangover Child'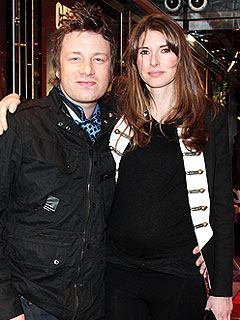 Joanne Davidson/PictureGroup
No one was more shocked to discover Jools Oliver was expecting again — less than a year after welcoming her third daughter — than her own husband, celebrity chef Jamie Oliver.
While the news came as a surprise to the couple, Oliver admits it isn't the first time they've expanded their family unintentionally!
"We struggled for ages with number one," he tells Times Online, adding that Jools stimulated ovulation with Clomid to conceive Poppy Honey Rosie, now 8.
"Then Mr. O gets back in there again, thinking it's not a worry. But whatever they've given her is still hanging over for 11 months."
The result? Baby number two, daughter Daisy Boo Pamela, now 7.
Hoping to add to their bunch, Jools again turned to Clomid for help conceiving a third child, eventually leading to the birth of Petal Blossom Rainbow, who celebrated her first birthday earlier this month. And in a bit of history repeating itself, Jamie was quick to jump the gun once again!
"We made the same mistake. And here we are," he jokes of their fourth baby, due in September. "Just call it a hangover child."
— Anya Leon