Tina Fey & Steve Carell: Date Night Is Better for the Babysitter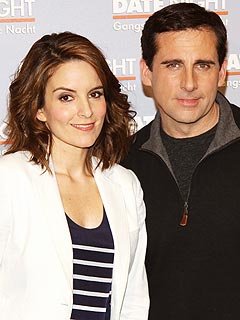 Anita Bugge/WireImage
For Date Night costars Tina Fey and Steve Carell, a night on the town has become increasingly rare since becoming parents.
"We really get out maybe once a month," the actress, 39, tells PARADE of life with husband Jeff Richmond. Concurring, Carell explains that he and wife Nancy Carell are "probably about the same."
A date night deficiency isn't the only phenomenon the couples share, however!
"Sometimes you've had a long week and you have a date night planned and the babysitter comes and you envy her for…" Carell says, leading Fey to interject, "Settling in! She's going to watch TV."
"Oh, with a big bowl of chips and the Tivo lined up with your favorite shows," Carell continues. "That sounds like the best date night of all."
The actor, 47, adds that "after the kids go to bed," he and his wife will often do just that. "It sounds boring, but it's so great," he says. "We love it."

As for their own upbringings, Fey's parents used humor "as an escape valve" and she attributes their marital success to an ability to maintain outside interests. "I think that keeps you in the world, so it's not just about your house and your kids," she explains.
Her daughter Alice Zenobia, 4½, has begun forming her own ideas about marriage and love — and Fey says that thus far, she likes what she sees.
"Recently, two of my dear friends who are writers at [30 Rock] — a straight woman and a gay man who are also very close friends — came over," she explains. "Afterward [Alice] said, 'You can tell they're married because they take really good care of each other.'"
"I thought, 'That's so sweet,'" Fey recalls. "I said, 'I hope you always think that's what marriage is.'"
Carell is also thoroughly enjoying himself with children Elisabeth Anne, 8½, and Johnny, 5 ½. "It's a fun time," he notes. "Whatever age they're at, I'll pause and think, 'It can't get any better than this.' Then they get older and even more interesting."