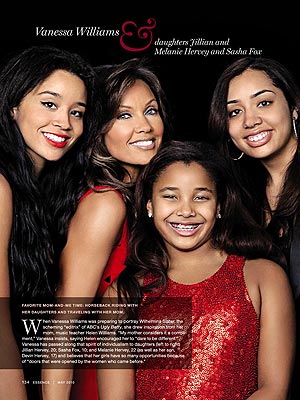 Scott Jones
What's Vanessa Williams' favorite mother-daughter activity?
Posing in the May issue of Essence with her girls — Jillian, 20, Sasha, 10, and Melanie, 22 — Williams says horseback riding with her daughters is close to her heart, as well as traveling with her own mother, Helen.
The Ugly Betty star, 47, who credits "doors that were opened by the women who came before" for the opportunities her daughters have today, tells the magazine that she looked back to her mom for inspiration while portraying editor-in-chief Wilhelmina Slater on the recently canceled show.
"My mother considers it a compliment," Williams insists, saying mama Helen encouraged her to "dare to be different."
Jillian and Melanie are Williams' daughters with Ramon Hervey II, with whom she also has son Devin, 17, while Sasha is her daughter with Rick Fox.