Layla Kayleigh's Blog: Melody's First Easter!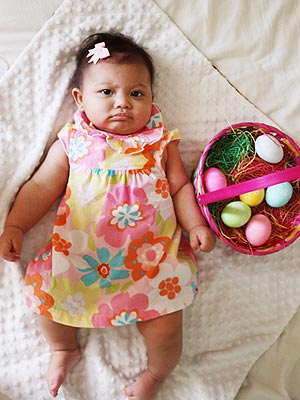 Courtesy Layla Kayleigh
America's Best Dance Crew co-host Layla Kayleigh is letting readers follow along as she tackles first-time motherhood — daughter Melody Rain is now 5 months old.
If you missed Kayleigh's prior entries, click here to read!
Melody's First Easter
I cannot believe Melody is already five months! Holy moly, everyone says time starts to really fly when you have children but I never imagined like this.
It's really important to me that I document Melody's every step as much as I can, so when she is older she can look back on all her adventures and know how much her mommy and daddy loved her from the start.
I love taking pictures of Melody, especially her "firsts". This Easter was Melody's first and even though she is too young to paint Easter eggs and go on hunts, I still wanted to make it a memorable one for her, for pictures' sake.

However I don't think she felt quite the same! She usually loves posing for the camera but this past weekend, not so much!
I didn't really want to push her, so I snapped a couple of pics and let her be. It was just funny watching her trying to communicate, "I don't feel like doing this right now, Mommy!" It's incredible how each day I see more glimpses of her personality and I can already tell she knows what she wants!
I usually share photos of her smiling for you guys, but I thought I would share a pic of her pouting in her genuine moment of being fed up with me! She's my favorite person in the world, even when I'm not hers.
Hope you and your loved ones had an awesome Easter.
Much love,
LK
Just curious … what's your earliest childhood memory?