Tina Fey's Daughter Blows Her Cover – In Front of Oprah!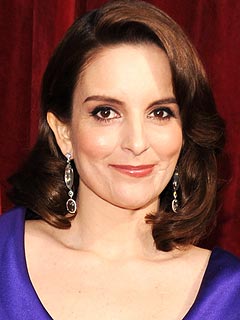 Kevin Mazur/WireImage
When Tina Fey learned an O spread with Oprah Winfrey would be shot in her own home, the Date Night star kicked into high gear to stage her apartment.
"It was a big deal. I was like, 'I gotta get everything out of here,'" she joked during a Wednesday appearance on the Late Show with David Letterman.
"Fixing up the apartment mostly involves taking my stuff out. We put it in a truck and … hid it in the woods or something."
But despite the upgrades — including "a nice little rug and a bowl of fancy pears" — Fey's cover was blown when Winfrey was greeted at the front door by 4 ½-year-old Alice Zenobia.
"My daughter was immediately like, 'Come here, come here Oprah,' and led her to this bowl of beautiful fruit," the 30 Rock actress recalls.
"[Alice] said, 'These crazy bananas are for you.' The jig was up immediately."

Despite her mini-me having a big mouth like Mom, Fey admits life with Alice "gets better and better" with time — literally! "[She] has gotten past the 3-year-old part where they're little jerks and [she's] getting cute again," she confesses.
Her increasingly inquisitive mind has also brought about a fair share of laughs between mother and daughter.
"I was reading her a story the other night and she was sitting on my lap. She just took my face in her hands and [whispers], 'When are you going to die?' Oh my God. Chilling," Fey, 39, laughs.
However, according to the actress, Alice's questions are with good reason!
"They have very practical concerns," she points out. "They'll miss you or whatever, but they're like, 'Who is in charge of the chicken nuggets when you die?'"
— Anya Leon