Episencial: Organic Skincare for Kids
What mom doesn't want safe products to use on their baby's skin? That's why we're especially excited about new children's skincare line, Episencial. And we're not the only ones. Courteney Cox-Arquette, Larry Birkhead and Mary Louise Parker are already fans, and we can't blame them.
From body butter to bubble bath, each affordable product is made with all-natural and organic ingredients, designed to be gentle on young skin. Plus, the super cute recycled packaging features illustrations by Eric Carle (The Very Hungry Caterpillar). What's not to love?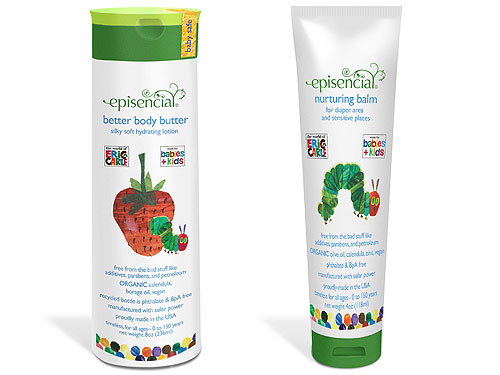 Courtesy of Episencial
A few of our favorites…
Summer's coming up, so check out the Sunny Sunscreen SPF 35 ($15). Made with natural zinc and titanium minerals, it works well on sensitive skin. It's also fortified with organic green tea extract to prevent sun damage.
For bath time, we're digging the Sweet Dreams Bubble Bath ($9). The lavender and plum scent is dreamy — and it won't irritate mini peepers.
Check out the whole line here, with prices ranging from $6 to $15.
— Stephanie Phoenix