Scott Wolf Spent Wife's Labor Sobering Up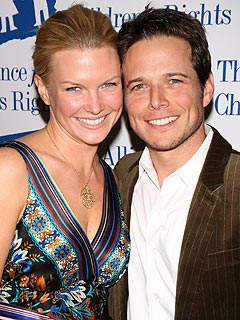 Howard Wise/JPI
Scott Wolf was hundreds of miles away when he received word that his wife Kelley was in labor with their first child. And after a bit of late-night partying the night before, the actor wasn't in the best position to fly to her side!
"I was in Vancouver [shooting the pilot for V] and my wife calls early on a Saturday morning. She's like, 'It's happening; you gotta get on a plane,'" Wolf recalled during a Tuesday appearance on Jimmy Kimmel Live!
"Unfortunately, the night before we were at a drinking establishment and we had gotten over-served," jokes Wolf. "So I basically got on a plane and was recovering the whole way."
Once he arrived at the hospital Wolf, 41, decided not to relay his hangover troubles to Kelley.
"Thankfully I had the good sense not to tell a woman who was about to push out something the equivalent of a bowling ball out of her own body that I had a headache," he notes. "Terrible idea!"
Looking forward to cutting the cord yet still feeling the effects of his celebratory evening, Wolf credits his then-unborn son Jackson Kayse with being sympathetic.
"He actually hung in there those last few hours," he says. "I think he was letting me sober up! [He was thinking,] 'This guy is not ready for me yet!'"

Calling now 1-year-old son "the greatest little guy," Wolf is embracing first-time fatherhood despite having detoured from his and Kelley's original parenting plan.
"You start out with all these rules — we're not going to feed him sugar, we're not going to swear after 9 — and then it gets to a point where you realize if he's happy…" he trails off.
"It gets to the point where my wife is like, 'Honey, he's eating Skittles and watching Scarface,' and I'm like, 'Does he seem happy? Get out of there! That's a good movie.'"
— Anya Leon