Review: Baby Jogger City Select
If you know a double stroller might be in your future, you should check out the Baby Jogger City Select ($500). This innovative, top-notch stroller starts out as a single but quickly — and easily — transforms to a two-seater.
With 16 possible seating options, the City Select offers unsurpassed versatility without sacrificing quality in the process.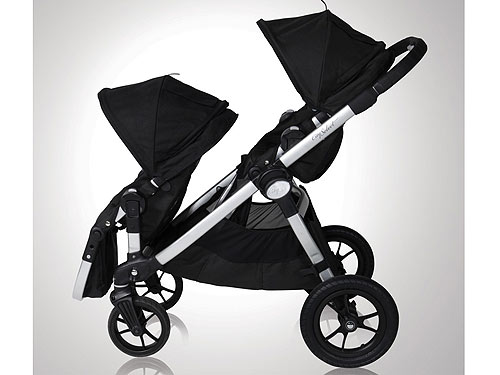 Courtesy of Baby Jogger
Click below for our review!
What we like:
As a single stroller, the City Select is super sturdy. The easy-to-maneuver wheels make it a breeze to get through crowds or busy areas. You can also lock them for a smooth, solid ride over bumpy surfaces. Another plus for a day out: storage options. The stroller comes with a sizable basket with side zippers to keep bags and other belongings in place.
The seat is comfy, nicely padded and can surprisingly accommodate an older child, thanks to an adjustable five-point harness and a sun canopy that clips on at two height positions. And just one push of a button lets you choose between four reclining positions.
Folding it up is also a cinch. Just pull up on the two levers marked "fold" and the stroller collapses unto itself, with the seat on or off. A manual lock holds it in place.
But what's really special is how quickly (and easily) the City Select converts into a double. All you have to do is remove the two covers on top of the front two wheels, insert additional frame pieces, and then slide the second seat into place.
Unlike some double strollers, the second seat is full-sized, which is great for twins. With each seat able to carry up to 45 pounds, you can safely push two large toddlers.
Plus, when you set it up as a double, your seating options seem endless. You can have two children face-to-face, both facing forward, both rear-facing, one child in a stroller seat and another in an infant carseat, two infant carseats, one stroller seat and one bassinet, and so on.
What we don't like:
The seat doesn't recline to a flat position, making it only suitable for babies 6 months and up. And while we appreciate the flexibility of two canopy positions, the canopy itself is somewhat difficult to get on and off.
Lastly, the adapters for a doubles conversion kit are only available with the purchase of a second stroller seat. It would be great if Baby Jogger sold the adapters separately, even though eventually you will need that second stroller seat.
Moms and Babies rating:
The City Select is pricey, but worth every penny. So if you're currently in the market for a high-end single stroller but know you'll need a double in the future, we highly recommend this style.
It's user-friendly, extremely versatile, built to last and a gem to push. Get yours here.