Mini Must-Have: Tabitha & Loretta Broderick's Floral Sun Bonnets!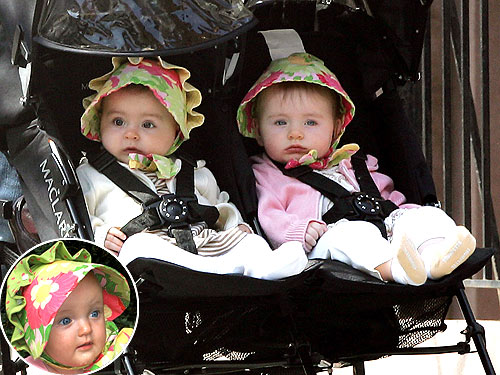 Ramey
Would you expect anything less than stellar style sense from fashion icon and Sex and the City star Sarah Jessica Parker's twin daughters? Of course not! SJP and her brood are delivering.
We spotted the pint-size New Yorkers — Tabitha Hodge (l) and Marion Loretta Elwell (r) — going for a stroll in their West Village neighborhood on March 19th in simple, yet chic, outfits paired with matching floral print hats.
The bonnets were too cute not to track down, so we found out the 9-month-old fraternal twins were sporting Beaufort button bonnets ($35 each) from Susu & John's Sassy Susu collection.
Want one for your little girl? To find a retailer near you, click here. Or contact the company to place a custom order.