Caught Caring: The Teaching Garden
Committing your family to a healthy lifestyle is often easier said than done — but the Teaching Garden plans to help.
Created by celebrity philanthropist Kelly Meyer in response to First Lady Michelle Obama's Let's Move initiative to prevent childhood obesity, the Teaching Garden is a living laboratory. Students — receiving assistance from The Farmer-Veteran Coalition and GrowingGreat — plant, cultivate and harvest their own fresh produce while honing science and math skills.
In collaboration with Take Part, the program hopes to be in place at 1,000 other schools within two years, with participants regularly sharing ideas and reporting their progress via Skype.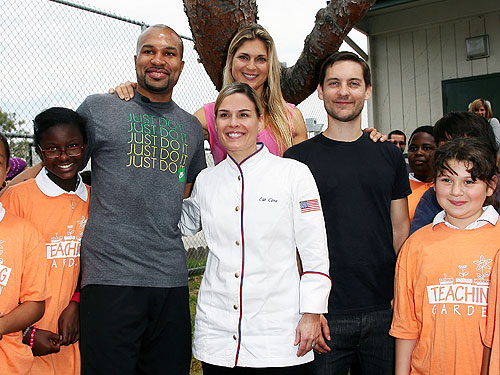 Valerie Macon/Getty
First piloted in Malibu, the Teaching Garden was unveiled at its second location — Inglewood, Calif.'s Kelso Elementary School — on Monday. Meyer was on hand along with her celebrity mom pals Gabrielle Reece and Cat Cora, who were all too happy to lend their support to the cause.
We spoke with all three afterward about the importance of instituting healthy eating habits early, their stance on junk food, and knowing when to take a stand at the dinner table — and when not to.

How can moms everywhere employ some of the lessons offered by the Teaching Garden? What about moms who don't have the space/time etc. to plant a garden of their own?
Cat Cora: I would say to moms to just start a window garden. Take a small planter or pot, plant some herbs with your kids and watch it grow. Have the kids water them, snip them, and add them into a dish you cook together. This past summer I didn't have a lot of time so I planted three pots of cherry tomatoes. My boys [Zoran, 6, Caje, 2 ½, Thatcher Julius, 11 months, and Nash Lemuel, 8 months] had a great time picking them and bringing them to me.
Gabrielle Reece: You start with yourself. And then, you hopefully get healthy with your family, your neighbors, your block, your community. In the end, that's the only way you can do it. If you just start that way, and say, 'I'll just take care of myself and make myself healthy, then I'll try to influence my children and create a healthy home,' I think that's your best shot.
The economics, the availability … I completely get it. And preparing fresh food takes time. To make it tasty takes a little knowledge. But we've gone this route, and we now realize it doesn't work. So some foods are easier and cheaper than others … we need to change a value system that says that that's a good thing. Maybe we need to rethink that. Maybe we need to go, 'Okay, with a little more time and a little more effort and a little greater cost, [healthy food] is the good thing.'
Kelly Meyer: Space and money are all an important piece of the Teaching Garden. That is why we are trying, one school at a time, to provide this service through schools so kids can learn about their food source and receive a nutrition curriculum to support their "real life" laboratory. The issue of "food deserts" where communities have no access (even in the grocery stores) to decent and affordable produce is one of the reasons we are doing this.
However on Michelle Obama's Let's Move website you can find a map that provides information about the nearest source of "real produce" in your community. For any mom it is worth a trip to the "Grocery Garden" where they can actively show their kids the variety of fruits and vegetables and the difference between live food on the perimeters and all the aisles of "non-food" food in the center of the grocery store. It is actually a great way to teach kids about labeling and making healthy choices. The "Grocery Garden" can be the next best thing.
Tell us what steps you've taken to ensure a healthy diet for your own family.
CC: We have always eaten and cooked pretty healthy. We teach our kids as soon as they start eating solid foods. It starts with what you buy. If you buy a bag of chips instead of pretzels you and your kids will eat them.
GR: We eat pretty healthy, but my kids on some level still eat like normal kids. There is chocolate in my house … there are cookies. And there is constant negotiation and bartering.
Basically, they have desert if they eat dinner. My deal with them is, 'If you eat enough good food you can eat whatever you want.' So I make them eat a certain amount, but I also know what's natural. I'm not, like, 'What's wrong with you?' It's natural that [daughter Reece Viola, 6] is not overly enthralled with asparagus.
There's a dance … I want them to feel like they have choice, so that as they grow older they feel like they're making their own choice [to be healthy]. But my kids understand very clearly, what is food and what is a treat.  And that's the difference.
KM: Oh that is a really good question. You know the best change that came out of personally having a garden is that my son [Eli, 12],who loves his sugar cereals, actually fell in love with sautéed beet greens from the garden. They would have never been on his radar if we hadn't seen them growing. So if you start by "adding" good instead of only taking away bad it may be a more positive transition. Also involving kids in the cooking of food really helps them to make changes about eating whole foods. If you cook with healthy ingredients it's easy to adopt change.
Also family dinners are key. My friend Laurie David is writing a book about how important family dinner is and how it takes back some of the fun and the control that we as mom's have over our kid's choices. Meal time is the opportunity to re-connect and impact your kids values as a family.
Is junk food something you never allow?
CC: It isn't something I never allow but definitely in moderation. My kids get dessert, sometimes it's fruit, sometimes it is a light or soy ice cream. If we buy chips we buy the baked ones or pretzels. They love yogurt pops and dried mango, too. There is an occasional M&M but I put my foot down when it comes fast food. We never go through a drive-thru. So you have to "hold on loosely," like the song says.
GR: I think that if you say 'No candy,' the minute they get a dollar in their pocket they're going to go buy some.
[Junk food] is not part of their regular diet but they're allowed to have it. I don't forbid it. I ate fluffernutter sandwiches daily as a child, and I survived, so I get it.
KM: Balance!! It is hard to know how much is "a little" or how often "every once in a while" really is, however just know that when you monitor your kids food you are actually providing them the opportunity for good health and protecting their most precious asset. It is hard to say no but when you look at "saying no" as a positive it makes your job as a mom easier.
How do you suggest moms handle things like birthday parties or candy-centric holidays like Halloween and Easter?
CC: In moderation again. To me the saddest thing in the world is when parents don't let their kid ever have sweets. You're heading for trouble. That is cupcake therapy waiting to happen! When our kids go to parties, they get a cupcake and a piece of whatever is for lunch. If you aren't going to let them have that I think it is really best not to go.
For Halloween and Easter, they can choose three candies during the day of. And then we put it on the fridge and they can have one small piece a day. For every piece they take, we take out some, so this only last a few days and they have to earn it. Making the bed, having nice behavior, etc.
KM: Schools are starting to support moms by not allowing all the sugary food at every classroom holiday party. And I actually gave my kids money in exchange for their Halloween candy — is that bribery?? It worked!
Why is it important for children to understand where food really comes from?
CC: If they know where it comes from, and also have a hand in growing it, they will have a much better appreciation for the foods. I always think good tastes better when you grow it!
KM: It is important for kids to really understand where their food comes from because they get excited about healthy food and they are part of the process of putting a seed into the earth, nurturing it and ultimately harvesting the food. They will learn about effort and results, delayed gratification and cause and effect = the ultimate goal … healthy choices for health.
We'd love an update on the kids!
CC: The kids are great. Zoran went with me last week when I cooked at the White House. He and I got a picture with the President and First Lady and they were lovely! Caje, Thatcher and Nash are growing like crazy and just happy kids. They are all yummy and [wife Jennifer and I] are just the luckiest moms on the planet.
GR: The kids are really good! [Reece] is home-schooled because we live in Hawaii and California. She is incredibly active and outside a lot. [Step-daughter Bella, 14] is doing well. It's interesting … I remember vaguely what it was like to be a teenaged girl, and I have had to become an interpreter for my husband [Laird Hamilton]. He doesn't get that. It's an interesting dance. And [daughter Brody Jo, 2] is great.
They're all really healthy, and fun. I don't think in the end I'm going to be smart enough to be their parent; I feel like I'm on borrowed time. I mean, they're a handful, but they're like all kids: None of them are passive, none are without constant opinion. When [Reece] says 'okay' to something, I almost fall on my face.