Tina Fey's Daughter Alice: Budding Thespian?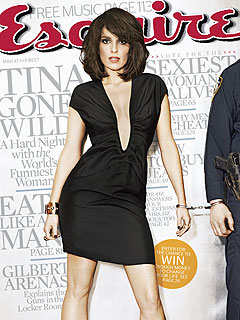 Courtesy Esquire
Viewers either loved or hated Tina Fey's impression of Sarah Palin on Saturday Night Live during the 2008 election season; however, the character seems to have had the greatest effect on the Date Night star's daughter Alice Zenobia, 4 ½.
"She says she looks like Barack Obama," Fey, 39, tells the April issue of Esquire.
"She heard so many people at that time saying I looked like Sarah Palin, I think she was just trying to get in on that. 'I look like Barack Obama.' Okay. Sure."
Alice also enjoys stepping into the role of Belle from Beauty and the Beast, but her take on the Disney princess is certainly the preschooler's own interpretation!
"She's a pretty violent Belle," reports the 30 Rock star. "She'll come in and say, 'Gaston is hurt. I've killed him with a sword.'"

And while her performances have yet to win her an award, Alice has had her own run-in with one of Mom's Emmys.
"My daughter was playing the other day and almost knocked an Emmy … on her head," Fey reveals.
"I was like, 'Oh, that would have been terrible.' Can you imagine having to fill out an accident report at the hospital? 'An Emmy fell on my kid's head.'"
Already showing promise as an actress, a recent conversation between mother and daughter left Fey worrying that Alice may be headed toward performing on a totally different kind of stage.
"[Alice] has a pretend hair-and-nail shop and I was doing her hair and make-up. I said, 'Hello ma'am. What's your name? What do you do?'" the actress recalls.
"And she said, 'I get paid to dance at parties.' And I said, 'Oh, no. That's a terrible, terrible answer.'"
— Anya Leon