Julianna Margulies on Her Baby Name Backfire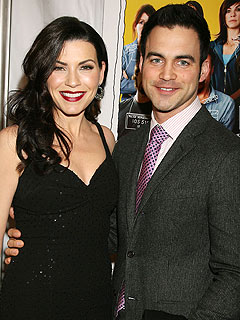 Dave Allocca/Startraks
Having already chosen a name for their first child prior to his birth, Julianna Margulies and husband Keith Lieberthal thought they were ahead of the game.
That is, until they welcomed Kieran Lindsay, a beautiful — but bald — baby boy.
"He came out bald, which was [a] shock. We were like, 'Okay, who are you?'" the actress, 43, joked during a Tuesday visit to The Ellen DeGeneres Show.
And when her bald baby, now 2, eventually transformed into a towheaded toddler, Margulies' decision to choose a name before meeting her son suddenly backfired.
"My husband's hair is as dark as mine," she explains. "Kieran in Celtic means 'little dark one,' and we just assumed … So the joke's on us!"
Fortunately, Lieberthal's mother stepped in — albeit a bit too late, according to The Good Wife actress.
"Then I found out my husband was blond until he was 3-years-old, thank God," notes Margulies. "I told my [mother-in-law], 'You could have told me earlier so I didn't panic when the blond hair started coming in!'"
— Anya Leon