Train's Pat Monahan: My Toddler's a Budding Fashionista!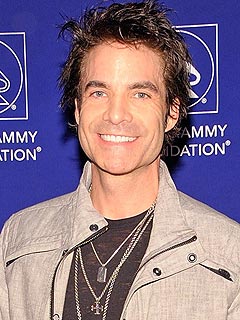 Michael Tullberg/Getty
Move over Suri Cruise, there's a new fashion-forward tot on the block.
Train frontman Pat Monahan says his 18-month-old daughter, Autumn, is "so hip to style."
"She's gotten several compliments on this pair of shoes [that she wears] and now it's those shoes only," Monahan told PEOPLE backstage at the 25th Annual Rock and Roll Hall of Fame Induction Ceremony on Monday.
"My wife has to hide [the shoes] first thing in the day if she doesn't want her to wear them."
Still, that doesn't stop Autumn from coaxing her parents into letting her have the shoes.
"She'll stand in front of you and put her foot out and tap her foot. I'm like 'Are you seeing this?'"

Footwear aside, Autumn is proving that there's more to her than her burgeoning fashion sense. The "Hey, Soul Sister" singer describes his daughter as "real smart" and chatty.
"I'm Irish, so, like me, she talks way too much except she doesn't use too many words. She calls everybody 'Mama' and she loves to make people laugh," he says.
Another trait she's picked up from dad is clenching — which his wife hates.
"I squeeze [my hands] when I get excited and she's been doing it since about 2-months-old. I love it, but I think my wife is like, 'Dude, quit it!' he says.
Autumn is Monahan's first child with wife Amber Peterson. He also has a daughter Emilia, 12, and a son Patrick, 17, from a previous marriage.
"My three children and my wife are such a wonderful part of my life. They're my refuge," he notes.
— Carlos Greer