Padma Lakshmi: My Life Has Changed from Night to Day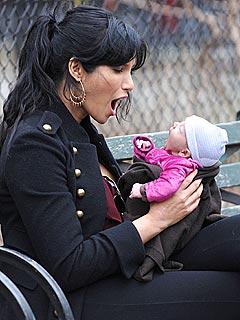 Albert Michael/Startraks
Padma Lakshmi's on-and-off relationship with venture capitalist Adam Dell, who has been identified as the father of her newborn daughter Krishna Thea, is a topic the Top Chef host prefers to keep private — but the one person she is eager to talk about is her baby girl, now 4-weeks-old.
"She's very independent and very funny. She's a good communicator and is very witty already," Lakshmi jokingly told PEOPLE at a launch event for Pampers with Dry Max, which was the perfect party for the new mom to attend.
"The girl changes her underwear like you would not believe," said Lakshmi.
"She's a big eater like her mom, so she has to go. We go through about 10 Pampers a day."
Lashkmi is thankful she doesn't have to juggle motherhood with her hosting duties on Top Chef just yet.
"Right now I'm not working, [but] when I go back to work I'll have her with me," she said. "[My life] is totally centered on my nursing schedule. I sleep in short spurts. It's pretty intense, but I'm lucky."

After years of struggling with endometriosis, a medical condition which affects the female reproductive system, the glowing mom describes giving birth as a "burst of joy."
"I can only speak for myself obviously, but I don't think you have cognitive thought [when you see your baby for the first time]," Lakshmi, 39, explains.
"It's not a conceptual thing that you put into words. It's almost like you don't think, you just feel. Your heart just explodes with love. My life has changed from night to day."
— Carlos Greer